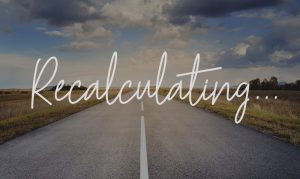 Proverbs 16:9 AMP
A man's mind plans his way as he journeys through life, but the Lord directs his steps and establishes them.

No doubt we've all been there at some point. That vacation trip to the beach, a trip into the mountains, or with Theo at Rolling Thunder in DC, when the navigation comes on with that timeless message,…. recalculating. One such memory in my mind is after a Saturday ride at a Biker Weekend, I was voted to lead our group back to the hotel to freshen up for the evening events. I pulled up Google Maps, plugged in the address of the hotel, and off we went. It was a beautiful afternoon, and the scenery was awesome. Slowly, the gentle, twisting roads gave way to one lane roads. The one lane roads then gave way to gravel, country roads. Soon we were passing farmers on tractors, who gave us some strange looks as the procession of motorcycles passed by. Eventually, we came to an intersection, another paved road, and finally our hotel. In that moment in time, I planned my way, but Google Maps directed my steps. In this life, we are guilty at times of planning our every step, to the point that we leave no room for guidance. We plan our every move, dot every i, cross every T, and leave no availability for God to say, no my child, it won't be the fastest route today, but I am adding some stops along the way. Sometimes we have to come to a point, where we say, God, if you want to recalculate my life, I am Yours. If You want to make some adjustments to the way I'm walking, then have Your way in me. If You want to put me on a different path than the one I'm walking, lead me to that Rock that's higher than I! How many times have we resisted the turning of the Spirit in our walk with God, and that still small voice in our ear, recalculating, recalculating, recalculating? If we look to the Word, we find evidence that sometimes God wants to take us somewhere, but use the scenic route to get there. The children of Israel made it out of Egypt, but they had to cross the Red Sea. Joseph made it to the palace, but there was a pit and a prison along the way. Daniel was made to prosper in the kingdom of Darius, but there was a layover in the lions den. Shadrach, Meshach, and Abednego were promoted in the kingdom, but there was a fiery trial they had to endure first. I don't pretend to know every detail of God's plan, but I do know He has a plan for each and every one of you. He knows the end from the beginning. He has a purpose and a calling on your life, and just because the detour seems to be a setback, it may be just what God has ordained to get you to where you need to be. Let's put our feet on the highway pegs, unmute the still small voice, and see where God takes this ministry.
Ephesians 4:1-4 KJV I therefore, the prisoner of the Lord, beseech you that ye walk worthy of the vocation wherewith ye are called. with all lowliness and meekness, with longsuffering, forbearing one another in love; endeavoring to keep the unity of the Spirit in the bond of peace. There is one body, and one Spirit, even as ye are called in one hope of your calling.

Jeremiah Hayes
Vice President
Azusa Streetriders International
The following two tabs change content below.

Latest posts by Jeremiah Hayes (see all)