Praise God for His loving kindness!!
What an amazing turn out we had at the Chaplain Training Session on Wednesday morning, prior to the National Rally. I personally want to thank all that were in attendance, whether you are an ASR Chaplain or not. It was a springboard that provided encouragement for all to go deeper into the Kingdom.
Chaplain Hardin provided an overview of ASR Chaplaincy requirements and vision for the future. Chaplain Laureen Theodore share her heart with some words of encouragement to care for those that are hurting. Chaplain/Pastor Perry gave insights on being a presence and how affective it can be when one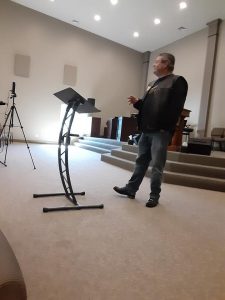 has patience by allowing the Spirit to do It's work. Chaplain/Pastor Hennigan challenged us to do all that we do with all our might and never take a lazy approach in the Kingdom. Jesus was in the house, and the material was superb!!
For those who could not attend and would desire to be a part of the ASR Chaplaincy, please contact Chaplain Mark Hardin (618-292-7415 or tennwalker1961@yahoo.com) for more info.
Our goal in the upcoming months is to have a chaplain for every chapter, an overseer for every state that we are represented in, and strong leadership regionally, nationally, and internationally. The network of Chaplains will help bring stability and positive visibility within Azusa StreetRiders in the future by working hand in hand with the chapters, Regional Coordinators, and National Board. I truly believe the success of this ministry depends on it.
Mark A Hardin
International Chaplain/Illinois Regional Coordinator
The following two tabs change content below.
Latest posts by Mark Hardin (see all)