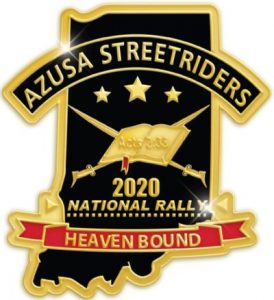 The RALLY is right around the corner!! All are welcome! Here is a short breakdown of the weeks activities that we have planned!
Tuesday (28th) – 9am ride to scenic Madison Indiana and Clifty Falls. Lunch at the Key West Shrimp House!! Contact us to let us know if you arrive early or want to meet us for lunch.
Wednesday (29th) – 8:30am ASR Chaplain training. 11:30am short ride from church (Pentecostals of Nashville) parking lot and time in scenic Nashville Indiana. 5:30pm is an outreach initiative at the church with special singing groups from the area…Potters Clay, Upper Room Experience, Sharp Family Bluegrass, and Pentecostals of Nashville Worship Team.
Thursday (30th) – 9am-3pm ride…lunch (see meal plan) at Golden Corral in Bedford Indiana. 5pm supper (see meal plan) and missions focused service at 7pm. Afterburner fellowship and snacks after.
Friday (31st) – 9am-3pm ride…lunch at Cascades Park (see meal plan) in Bloomington Indiana. 5pm supper (see meal plan) and revival focused preaching (Pastor Shine Doughty of Mattoon IL) at 7pm. Afterburner fellowship and snacks after.
Saturday (1st) – 8am light breakfast with Annual Meeting at 9am-11am and lunch following. Ride is planned following the meeting/lunch to Tulip Trussel (2and longest Railroad trussel in US).
Sunday (2nd) – a list of churches will be provided of all the churches in the area that participated for those staying over.
For the meals (4) falling under the meal plan, please find the pre-pay forms along with the Registration online. The pre-pay will help expedite the lunch process and will also give an idea of how many to prepare the meals/seating for.
If any questions, please call or text Mark Hardin (618-292-7415) and we will try to accommodate.
The following two tabs change content below.
Latest posts by Mark Hardin (see all)