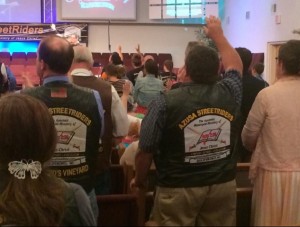 Azusa StreetRiders from 12 US states and Canada converged on First Apostolic Church (Pastor Kenneth Carpenter) in Maryville, TN for our only true annual "fellowship" event…All other events worldwide focus on outreach for Christ. We had rides (Google "Tail of the Dragon") and events scheduled for each day and had 42 bikes on one "Dragon" ride!
We were blessed to have Pastor Cortt & Sis. Amanda Chavis (Truth Chapel, Loganville, GA) as our featured speakers for our three open-to-public night services. Attendance estimates were around 300-400 for each night and we were ministered to! Thank you Bro. & Sis. Chavis! These messages will soon be available for viewing on our ASR website…Listen to them…You will be blessed!
At our Azusa StreetRiders International business meeting Saturday, Bro. Robert Thompson (Maryville, TN Chapter) was re-elected Secretary and Rev. Todd Storey (Northern KY Chapter) was elected Vice-President. Two international appointments were also made…Rev. Julie McGhghy (Cincinnati, OH Chapter) was installed as ASR Ladies Chaplain and Bro. Michael Theodore (Ashtabula, OH Chapter) was installed as ASR Road Captain. Sis. McGhghy is available to assist with any issues specific to women and can be contacted via the ASR website, while Bro. Theodore will be assisting each chapter with their rides. Both have considerable experience for their respective positions and should be contacted as needed.
For their efforts and help with Azusa StreetRiders, Bro. & Sis. Carpenter and Bro. & Sis. Chavis were inducted as "Honorary Members" of Azusa StreetRiders and were each presented with a vest with our ASR backpatch stating such.
This past year our Azusa StreetRiders US and Canadian efforts resulted in funding for the purchase of two motorcycles for Brother Naimy (ALJC missionary to the Philippines) and a gift of $1,000 to ALJC's World Missions Department.
At the business meeting, it was stressed that the funding goal for each ASR chapter is $1,000 annually for "Motorcycles for Missionaries." Additionally, to help promote our efforts for Christ, we asked each member of ASR that is active on social media to promote us. On Facebook, our official name is "Azusa Street-Riders" and on Twitter, we are "@Azusa StreetRide"…We were asked to please "Like", "Share" and "Retweet" info about our upcoming events that are promoted there and ask other to also "like" and "follow" us.
It was announced that the next "Bind the Strongman" all-night prayer event will be held at United Pentecostal Church (Pastor Robert Eades and ASR Member) in Eminence, KY on March 6, 2015. Prayer will start at 9:00 PM. This is Azusa StreetRiders' annual prayer event that does not involve biking…everybody (public welcome) comes together and prays through the night following World Network of Prayer's guidelines. Focused prayer is led throughout the night and following the prayer, everyone simply returns home. We've had attendees from as many as nine states attend a past event…Needs are met and prayers are answered at these events. Please plan to attend!
The following two tabs change content below.

Fred Beall and his wife Diane Beall are the co-founders of Azusa StreetRiders, "The Apostolic Motorcycle Ministry of Jesus Christ." He served for 16 years as the first President of ASR and stepped down in 2015. He and Sister Beall reside in Myrtle Beach, SC, are members of the Myrtle Beach Chapter, and are active members today attending as many ASR events as possible.

Latest posts by Fred Beall (see all)