The Pilgrimage, Myrtle Beach Chapter of ASR's "Biker Sunday" event, was a tremendous success. At the "Meet-n-Greet," we had a Taco Bar and just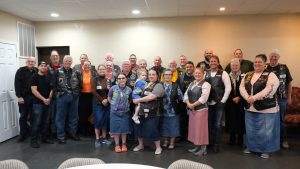 relaxed and fellowshipped with those who had already arrived. Breakfast early Saturday was followed by the filming of powerful ASR testimonies at Christian Life Center of Myrtle Beach. The video will be edited for brevity to eventually be used as promotional material for Oneness Apostolic pastors to encourage them to have their bikers join ASR in our outreach efforts.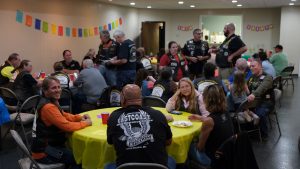 "Thank you" to my wife, Diane Beall, Pastor Stacy Davis, the Myrtle Beach Chapter of ASR (Bro & Sis Ketron, Bro & Sis Poleto, Bro & Sis Colosimo, Bro & Sis Badillo, Bro & Sis Dorn, Bro & Sis Montes, and Bro Roberts), our good friend and riding partner Jimmy Frost, and the entire staff and members of CLC for their efforts in making the event a powerful outreach to the local biking community. We had 18 first-time visitors including members of CMA, Sons of God, Bond Slaves, Broken Chains and non-affiliated bikers. All were able to hear the Word preached and be part of an Apostolic church service. Pray God moves on all who attended!
A special thank you to all out-of-town Azusa StreetRiders for making the long trip to Myrtle Beach to attend and be a part of weekend's activities. ASR Members came from:
West Virginia (Bro & Sis Hayes, Bro & Sis Harper, Sis Roat, and Bro Hayes, Sr.),
Tennessee (Bro Thompson and Bro Carpenter),
New Brunswick, Canada (Bro & Sis McLeod),
Michigan (Bro & Sis Zerbe),
Missouri (Bro & Sis Cobb), and
Ohio (Bro Theodore).
We are family!