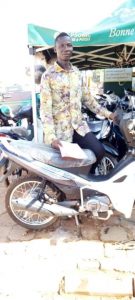 Thank you Azusa StreetRiders (#ASR) for your generosity in helping us be World Changers…
"Attached are pictures of the 2 motos we purchased today in Burkina Faso. One is for Pastor Cyrille, the director of the Bible school and the second is a new pastor, Pastor Alfred. I told them on a zoom call that they would be receiving them. They literally danced and worshipped. Thank you!
Ken Cantrell, Global Missions UPCI
Area Coordinator / West Africa
Superintendent: Burkina Faso / Niger Cameroon
The following two tabs change content below.

Michael Theodore is married to Laureen, and both are devoted followers of Jesus Christ. Michael serves the Azusa StreetRiders Motorcycle Ministry as both National Road Captain and as Ohio District Coordinator. He is passionate not only about riding, but also using motorcycles as a witnessing tool to affect souls for the Lord Jesus.

Latest posts by Michael Theodore (see all)