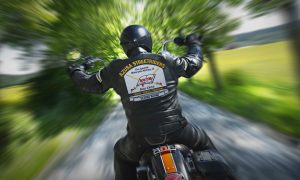 Praise the Lord my ASR family. I first would like to start off by saying thank you Robert Thompson for your six years of leadership in ASR. I would like to thank my wife Laureen Theodore for her six years of service, It was an honor and pleasure working with the both of you.
Moving forwad I am anxious to see what the Lord has in store for ASR and to work with our new board. The theme for 2024 is Taking It To The Streets. One of my goals starting off will be connecting our membership through communication and information. Pray for the new board as we move ASR forward. I love you all.
Michael Theodore
International President
The following two tabs change content below.

Michael Theodore is married to Laureen, and both are devoted followers of Jesus Christ. Michael serves the Azusa StreetRiders Motorcycle Ministry as both National Road Captain and as Ohio District Coordinator. He is passionate not only about riding, but also using motorcycles as a witnessing tool to affect souls for the Lord Jesus.

Latest posts by Michael Theodore (see all)