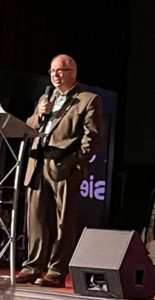 Would like to welcome and announce brother Tom Harding as our new Global Missions Coordinator. Bro Handing has been a blessing to this ministry for many years as the facilitator between the Azusa StreetRiders Ministry and many overseas missionaries. Bro Harding works for the UPCI Global Missions Department along with Bro Bruce Howell and Scotty Slayton both of whom have blesseds this ministry with their support and direction regarding our overseas interests. In addition the staff at the UPCI Global Missions Department have been instrumental in the Azusa StreetRiders "Motorcycles for Missionaries" program in so many ways.
We applaud Bro Tom Harding's decision to be a part of our ministerial team and look forward with his leadership in  developing Azusa StreetRiders Global Vision.
Robert Thompson
President Azusa StreetRiders International
The Apostolic Motorcycle Ministry of Jesus Christ
The following two tabs change content below.

Michael Theodore is married to Laureen, and both are devoted followers of Jesus Christ. Michael serves the Azusa StreetRiders Motorcycle Ministry as both National Road Captain and as Ohio District Coordinator. He is passionate not only about riding, but also using motorcycles as a witnessing tool to affect souls for the Lord Jesus.

Latest posts by Michael Theodore (see all)