Reminder-I will be emailing invoices for the ASR membership for 2021 dues the second and third week of January. If there are any changes to the information that I have on file please contact me with the updated information. All dues are 60.00. Individual dues the 60.00 goes to National headquarters which can be paid by paypal or credit card on the emailed invoice, paid on the azusastreetriders.com website store or sending a check to Azusa StreetRiders Ministry P.O. Box 188 Warren, OH 44482. Members in a chapter pay 60.00 for the first year after membership then it is split 30.00 to National headquarters and 30.00 stays with the chapter. Please see your chapter president or treasurer for information on payment. Any office held by a member will have until March 1st to pay their dues before being put on an inactive status for the position held. I'm looking forward to what the Lord is going to do through this ministry in 2021! Have a blessed and Happy New Year! Love you all!
God bless,
Chaplain Laureen Theodore
ASR International Treasurer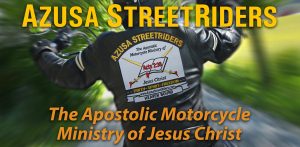 The following two tabs change content below.

Laureen Theodore serves as elected Treasurer of Azusa StreetRiders International.

Latest posts by Laureen Theodore (see all)