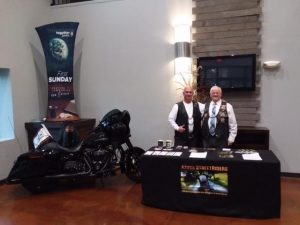 Omaha Chapter sets up first conference ASR Booth.
This is Bill Johnson and myself, David Showalter, at the Nebraska E-3 Conference. We received permission from the pastor and district superintendent to set up a Azusa StreetRiders table and to park Bro Johnson's Harley beside the display. There has been interest and four applications for membership have been handed out. Bro Johnson has done a wonderful job setting it up and manning it, while I have been involved in other areas of the conference. It is the first ASR display ever at any of our district meetings but certainly won't be the last.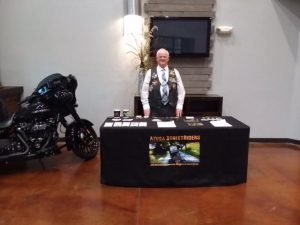 Thank You Brother Johnson and Brother Showalter for your love of this ministry.
The following two tabs change content below.

Michael Theodore is married to Laureen, and both are devoted followers of Jesus Christ. Michael serves the Azusa StreetRiders Motorcycle Ministry as both National Road Captain and as Ohio District Coordinator. He is passionate not only about riding, but also using motorcycles as a witnessing tool to affect souls for the Lord Jesus.

Latest posts by Michael Theodore (see all)