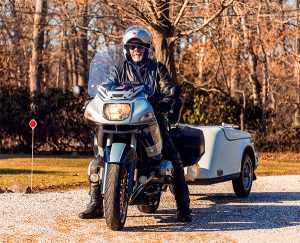 Getting ready to go the distance.
M
otorcycle touring is a wholly different, more exciting and—oftentimes—more surreal experience than plopping down in the driver's seat of a car or SUV for a road trip. It is a natural extension of the motorcycle lifestyle and accentuates the road riding experience.
If you've never gone on an overnight motorcycle trip, don't let yourself get overwhelmed by the concept. Every day, people load up their motorcycles and ride for hours through the elements. You can, too.
If your road riding has been limited to short rides in your hometown, touring helps you become a better rider and often leads to discovering cool places that you didn't know existed.
Those who have toured will tell you that it's an immersive way to experience some of the best landscapes the United States has to offer—wholly different from looking out the car window and watching the scenery pass by.
Motorcycle touring also is fun to do with a group, and a lot more fun than piling two or three friends into a sedan. Going on a tour with experienced riders alleviates some of the trip planning and preparation responsibilities, and there's a bond formed among those who have spent two or more days riding together while stopping to visit landmarks or just rolling through scenic countryside.
You don't have to ride thousands of miles on your first tour—or ever, for that matter. You can tour as near or far as your family and work commitments and budget allow. Touring isn't about distance: it's about living the motorcycling lifestyle to the fullest and using the knowledge you gain from your tours to grow as a motorcyclist and hone your riding skills.
In the following sections, we'll provide guidance to help you get started on the right foot.
More important than what to pack or where to ride is making sure your bike is ready for a trip, no matter what road-going motorcycle you own.
Many of the motorcycles marketed as touring models feature large-displacement engines, but you don't need a 1,000cc or larger motorcycle to take a trip. To be clear, big touring rigs do offer advantages, such as torque power, protection from the elements, supple suspension, good luggage capacity and comfort for two.
However, any street-legal motorcycle can be modified for touring duty, as long as it's a mechanically sound machine you feel comfortable operating. Some bikes' baseline ergonomics may not suit some riders, but there are so many ways to customize a motorcycle for comfort.
Y
ou don't have to plan 10 hours in the saddle each day. Touring is what you can ride per day. A good start would be about  300- to 400-mile days when  touring. If you seem good you can increase your miles as you see fit.
Less time in the saddle each day (and more time visiting neat places along your route) makes having a purpose-built machine less important. It's all about the ride and the distention and meeting new people along the way and the scenery. Stop to take pictures along the way.
The first step to getting into motorcycle touring is outfitting you for the ride. You can add all the add- on's  you want to your bike, but if you don't have the right gear and right seating position for you, the rest won't matter.
Remember, what's uncomfortable after an hour or two becomes unbearable after a full day on the road, even with a lot of stops along the way.
Comfort starts with your head. Make sure you have a properly fitted helmet. Match the helmet to your head size and shape. It's also a good idea to wear earplugs when touring, where legal.
Two of the most important adjustments you can make are to the motorcycle seat and handlebars. Some riders do just fine with a stock seat, but many prefer to make a change to the part of the motorcycle that bears most of a rider's weight. Some styles of motorcycle, such as dual sports and sport bikes, often come with small seats that quickly become tiresome.
Seat replacement options are available from a variety of companies, and there are seat accessories made of sheepskin, wood beads or air pockets that can increase rear-end comfort on a budget.
Handlebar height and angle also are big contributors to touring comfort. Most motorcycles use tubular handlebars or "clip-on" bars and mounts that can be changed to match rider preferences.
Tackling the open road also means maximizing your motorcycle's wind protection. If you're used to riding country roads for a couple hours at a time, spending hours each day in a turbulent wind blast can be a rude awakening.
The importance of wind protection increases with interstate riding and inclement weather. A fairing or windshield can help reduce riding fatigue when traveling at higher speeds on highways.
This is especially true for cruiser, standard and dual sport machines that feature little (if any) bodywork.
One downside to adding wind protection is hot weather. Without adequate air moving over a rider, temperatures inside a riding jacket can rise quickly. So, be alert, stay hydrated, open the vents in your jacket and consider a wet t-shirt, vest or neck scarf to help cool you down.
The more time you spend on the road or at stops along the way, the more challenging the ride may be.
Skipping riding for a day if dark clouds start rolling in may not be an option when you're in the middle of a tour. Or you may unexpectedly find yourself riding through high winds, hail or heat waves.
It may be 80 degrees and sunny when you leave  but in the 30's with snow coming down by the time you reach your destination.
Make sure to pack motorcycle-specific rain pants and a rain jacket, as well as at least one set of rain gloves.
R
ain gear is the one of the best gears to have. Not only for keeping you dry. But it will keep you warm on the cooler temps and block the wind.You will find out that the rain is more difficult to deal with on two wheels on the highway.
You'll also want to pack a cleaning kit for your face shield or goggles. Humid conditions, bugs and road grime can gunk up your eye protection very quickly. Having a way to clean them is a safety essential. Having more than one face shield or set of goggles with you makes for quicker visibility stops. (It may be easier to change a shield than try to scrub the bugs off of one.)
It's also a good idea to apply sunscreen each morning before you take to the road. Areas around a rider's neck and between the end of a jacket sleeve and the start of riding gloves can be exposed to direct sunlight. And your face can get sunburned through a clear face shield.
Perhaps the most important thing a rider needs to do each day of a tour is hydrate. Even in cool temperatures, the body loses water over the course of a day. Touring riders need to top off their own fluids each morning and drink at least a little water when they stop. It's far better to over hydrate than under hydrate.
It is better to not drink caffeinated beverages, like soda and coffee, on travel days and sticking to water or sports drinks. Also it is good
making sure you're in good physical shape before getting into touring.
Something else riders need to be prepared for is a mechanical breakdown. Modern motorcycles are far less prone to failure than older machines, but there's always the possibility that something will go wrong with your bike. On a tour, being a hundred or more miles away from home can greatly complicate the situation.
At the beginning of each riding season—and after each use—make sure all the components of your bike's tool kit are accounted for. Pack some extra fuses and other small parts that may be prone to failure. It's also a good idea to have a flash light and tire pressure gauge. Aftermarket companies offer a wide range of tool kits for touring.
Some problems require having your bike towed and worked on in a shop. One of the best tools you can have in that situation is Roadside Assistance. It's also a good idea to have a power bank to charge your cell phone in emergencies.
If you're considering getting into motorcycle touring to take a week-long dream trip of several thousand miles, that's great. Much like the advice we've all heard—"Your first bike shouldn't be your dream bike"—your first tour shouldn't be your dream tour. Start with weekend tours that feature 250 miles or fewer each day.
Especially for your first few tours, plan frequent stops. You eventually learn how far you can go before needing a break.
Some motorcycles have short fuel ranges of 140 miles or less, so plan a 15- to 20-minute stop each time you need to fuel up. Some touring bikes have large fuel tanks, but don't feel obligated to ride fuel-stop-to-fuel-stop without taking a break.
Online mapping sites like Google Maps, and Map Quest take the guesswork out of planning fuel stops and have information about places or events to see along the way.
Another great way to find way points is state or local tourism bureau websites.
The more you tour, the more you'll discover. When you ride somewhere, you almost always see something that's worth stopping to see or worth coming back to check out on the next trip                                                                                  Before you leave all
 the excitement of heading out on your a motorcycle tour can lead to small issues being overlooked. Here are three things you can do to make your tour go smoothly.
Get plenty of rest the night before:
The excitement of going on your first tour can make you feel energized, but you'll need that energy a lot more the next morning when you leave than when you go to bed. Make sure to head to bed a little early and get plenty of rest the night before your first trip.
Don't pack the night before:
One way to help with getting a good night's sleep is to not leave packing until the last minute. Make a list of the things you'll need to pack well in advance of the trip, practice packing them into your new luggage and do several test rides around your neighborhood with the loaded luggage mounted to your bike. Do not try packing the night before you leave because forgetting something small can lead to a big problem a long way from home.
T-CLOCS your bike the night before:
Make sure to give your motorcycle a once-over before you head out on your first trip. Use the T-CLOCS (tires and wheels, controls, lights/electrics, oil/fluids, chassis, stands) method to make sure your machine is mechanically ready for a couple hundred miles or more of riding. One of the most important aspects of touring is tire life. You don't want to run out of tread in the middle of a trip. Make sure your tires have more than enough miles left on them before you head out.
Keep the contact patch between the lines.
---
The following two tabs change content below.

Michael Theodore is married to Laureen, and both are devoted followers of Jesus Christ. Michael serves the Azusa StreetRiders Motorcycle Ministry as both National Road Captain and as Ohio District Coordinator. He is passionate not only about riding, but also using motorcycles as a witnessing tool to affect souls for the Lord Jesus.

Latest posts by Michael Theodore (see all)