I would like to extend a hearty Thank You to Pastor (Dr.) Talmadge French,  Pastor of The Apostolic Tabernacle Church in Jonesboro, GA  who has welcomed the Azusa StreetRiders as one of the newest chapters of this ministry.  We had a great time of  worship and the word.
So please welcome the Central Georgia Chapter
Bro Greg Pray – President
Michael Rhindress – Vice President
Brian Wilkinson – Secretary
Sheryl Pray – Treasure
James Frierson – Road Captain
Randall Wild – Sergeant at Arms
In addition I want to personally thank Bro & Sis Diaz who has agreed to couple with this new chapter. Bro & Sis Diaz are Azusa StreetRiders Evangelists that represent Azusa StreetRiders across this great nation of ours. They recently moved to GA and will be a great asset to the Central Georgia Chapter of the Azusa StreetRiders.
Thank you again Bro French for allowing us the opportunity to present this ministry to The Apostolic Tabernacle Church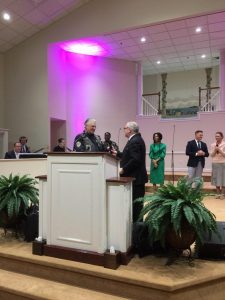 The following two tabs change content below.

Robert Thompson serves as President of Azusa StreetRiders International, the Apostolic Motorcycle Ministry of Jesus Christ.

Latest posts by Robert Thompson (see all)