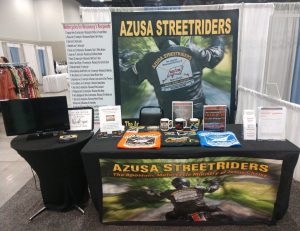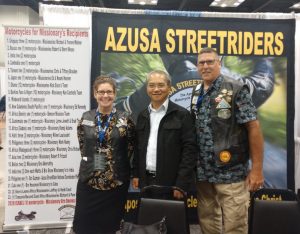 General conference 2019 was blessed and a huge success.  One of the things that made me proud to be an Azusa-SteetRider was when Brother Howell and some of the missionaries stopped by to tell us thank you for what we do. We were busy all week explaining to potential members that not only do we support our missionaries but we help members with biker Sunday's to reach out to the bikers that others don't know how to reach. We had quite a few pastors stop by to say they support what we do. One of the highlights was meeting one of the advisers Brother Reyes from the Azusa-streetriders Philippines.  They are looking forward to us visiting with them so if anyone is interested in heading to the Philippines within the next 2 years save up and lets start planning a trip. I would encourage anyone that has the time to help with the ASR booth at next years General Conference in Saint Louis MO to come out and help, you will be blessed.
Michael Theodore                                                                                                                      National Road Captain
The following two tabs change content below.

Michael Theodore is married to Laureen, and both are devoted followers of Jesus Christ. Michael serves the Azusa StreetRiders Motorcycle Ministry as both National Road Captain and as Ohio District Coordinator. He is passionate not only about riding, but also using motorcycles as a witnessing tool to affect souls for the Lord Jesus.

Latest posts by Michael Theodore (see all)