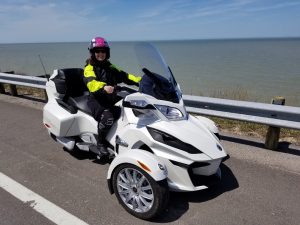 It's a very different world out there then it was a couple of decades ago. Women have always ridden motorcycles, but is hasn't been until recently that SO many women are deciding to sit on the front of the bike and steer their own course! Today, nearly one out of every ten motorcycle owners is a woman! This fact is changing the look and feel of motorcycle riding.
According to the Motorcycle Safety Foundation and the Motorcycle Industry Council, the median age of women who own motorcycles is 42. The majority of first time motorcycle buyers are between the ages of 35 and 50. Many speculate that this is because women of this age have finished raising their children and they are out to do something for themselves. In many cases, this is something they've wanted to do for a long time! Fully one-third of the people who take motorcycle safety courses now are women. Manufacturers such as Harley Davidson have begun to tailor their sales tactics toward women. Women are becoming more and more involved in motorcycle riding and this change is changing the look and feel of the sport. Many more women are feeling confident and secure enough to take up the sport and to be successful. Motorcycle riding is fun and it is for everyone!
Laureen Theodore
International Treasurer
The following two tabs change content below.

Laureen Theodore serves as elected Treasurer of Azusa StreetRiders International.

Latest posts by Laureen Theodore (see all)