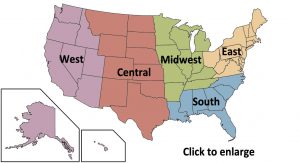 California
The states anti-profiling bill (A.B. 2972), would prohibit law enforcement officers from stopping and questioning motorcyclist based on their choice of vehicle or clothing,cleared the policy committee on a 5-2 vote. However, the measure met opposition on the Assembly floor, resulting in a 28-24 vote against the bill. Assembly member Ann Caballero who introduced the bill, requested reconsideration, which means the bill may be voted on again before the July1 deadline. Also A.B.2761 introduced by Assembly member Jay Obernolte, would authorize the driver of a vehicle facing a traffic-actuated signal that fails to turn green with in a reasonable period of time to proceed with caution when it is safe to do so, after having stopped at the intersection. Similar legislation has been adopted in 16 states already.
Florida
Driving requirements for auto cycles change July 1, allowing residents to operate these vehicles with a valid state driver's license.
According to the American Association of Motor Vehicle Administrators, an auto cycle is "a three-wheel motorcycle that has a steering wheel and seating that does not require the operator to straddle or sit astride it".
Nebraska
The auto cycle definition has been adopted for three-wheeled vehicles such as the Polaris Slingshot. State residents no longer have to obtain a motorcycle endorsement to drive them in Nebraska. State Sen, Jim Smith, who sponsored the legislation, said the change helps broaden the market for the vehicles and "makes it easier for the small businesses who sell them to expand and create jobs."
Colorado
H.B.1272 is a distracted driving proposal that requires cell service providers to make distraction-control technology available. Use of the technology would be at the customer's discretion. The technology would limit distracting content from the network on any mobile device while the customer is driving. The bill was introduced by state Reps Mike Foote and Jovan Melton.
Mississippi
Drivers of auto cycles, such as the Polaris Slingshot, will no longer have to obtain a motorcycle endorsement on their licenses after July 1. Mississippi is the 43rd state to adopt such legislation.
Michael Theodore
National Road Captain
State of Ohio Coordinator
The following two tabs change content below.

Michael Theodore is married to Laureen, and both are devoted followers of Jesus Christ. Michael serves the Azusa StreetRiders Motorcycle Ministry as both National Road Captain and as Ohio District Coordinator. He is passionate not only about riding, but also using motorcycles as a witnessing tool to affect souls for the Lord Jesus.

Latest posts by Michael Theodore (see all)