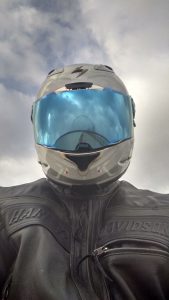 The other day I went to see about getting  proscription sun glasses a little thinner style than my motorcycle mirrored polarized proscription riding glasses. My riding glasses are perfect when I use my shorty open face helmet or my 1/3 helmet. But not with my full face or my new modular touring helmet. The new sun glasses will now fit under my new helmet or my full face with out discomfort. Why am I tell you this. Well after I left the eye glass store I was reminded of a conversation I had with a gentleman a while back when he seen my mirrored face shield on my full face helmet.
The question he asked me was. What are the benefits, if any, of a colored mirrored face shields? And then he asked me is it good for night riding? I first answered him that there are colored goggles,glasses and lenses also.And that there are different tints for night riding and Polarized lenses and mirrored for sunny day rides.
For dusk,nighttime,fog,rain and any low – light conditions, clear, non – tinted eye wear (eyeglasses) and eye protection (goggles or face shields) are the best choices.
For sunny days, tint can reduce eye strain. Gray tints are best because they simpley reduce the amount of light reaching your eyes, without distorting color.
Other tints also reduce the amount of light reaching your eyes by varying degrees, but they can distort color. That said, a yellow or amber tint may be very useful in overcast conditions to increase contrast.
Some riders prefer tinted or mirrored face shields to nonprescription sunglasses, because face shields provide more complete coverage, whereas sunlight can encroach around the frames of typical sunglasses. Some face shields automatically adjust their tint to ambient lighting conditions, and some helmets have an internal drop- down tinted visor. Without these features, you would need to carry a separated clear face shield if you'll be riding into the evening. I have a mirrored full face helmet with a drop- down tinted visor " see above picture" I use along with a full face modular with drop- down tinted visor I also use when riding. Along with a 1/3 helmet with drop – down helmet.
Polarized eyeglasses or goggles have benefits in most outdoor applications. Polarization allows light that comes straight toward the lens to pass though, while filtering light that comes from an angle. This reduces glare from road surfaces and other vehicles (especially chrome and glass surfaces) and minimizes the resulting distortion and "washing out" of the image-as well as potential damage to the eye. This is especially effective for wet roads, which are more reflective than dry roads. The downside is that polarized lenses can distort some of the light coming from or though instrument panel display or windshields.
Sunlight contains ultraviolet rays, which are as damaging to the eyes as they are to the skin. Generic sunglasses block varying amounts of UV rays. Prescription eyeglass lenses, whether clear,tinted, mirrored, or polarized, typically block most UV rays about 98%. Check with your optometrist to see if your lenses have this protection or if the protection can be added to your next prescription. My new pair of prescription sunglasses will be the same as my riding prescription glasses mirrored and polarized. You can also get prescription goggles to help protect against UV rays. If you don't need prescription glasses and don't want to use regular sunglasses a tinted or mirrored face shield will protect against UV rays.
Your eyes are the mind's window to the traffic world. Your safety depends on the accuracy of that view.
Keep your contact patch between the lines
Michael Theodore
National Road Captain
The following two tabs change content below.

Michael Theodore is married to Laureen, and both are devoted followers of Jesus Christ. Michael serves the Azusa StreetRiders Motorcycle Ministry as both National Road Captain and as Ohio District Coordinator. He is passionate not only about riding, but also using motorcycles as a witnessing tool to affect souls for the Lord Jesus.

Latest posts by Michael Theodore (see all)