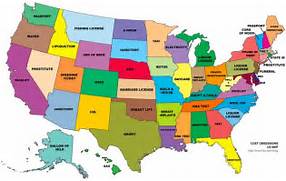 I am going to be posting something new in the rumblings newsletter each month which has to do with motorcycle laws and bills. I will be posting a few states every month. If your like me a motorcyclist you want to know what your state or other states are doing to help with motorcycle safety and motorcycle riders.
Did you know that some state's have motorcycle -only checkpoints?
Bill HB 727 is in legalization that would authorize the state department of transportation to allow motorcycles and motor scooters the use of shoulder lanes when congested.
Bill H 1917 flied by state Rep .Timothy Whelan (R-Brewster), would allow motorcyclist to proceed through red lights after stopping and "exercising due care," if the signal is controlled by a vehicle detection device that is not triggered by the motorcycle.
Motorcyclist are attempting to get the state's mandatory helmet law repealed again this year, with S.1923 would do just that. The bill was introduced bt state Sen. Anne Gobi There was about 175 riders showed up at the state capital to lobby in favor of this bill.
The state Senate voted to raise registration and training fees for motorcyclist. The annual registration fee goes from $23 to $25. Initial endorsement fees go from $13.50 to $16,and renewals from $5 to $7. The additional registration fee revenue will go to the motorcycle safety education program, while some of the endorsement fee revenue will fund a new program promoting motorcycle awareness.
The Governor signed into law H.B 2598, which extends the offense of vehicular assault to include contact with a motorcycle operator or motorcycle passenger.
The state's House Consumer Affairs Committee approved a measure that would cover motorcycles under Pennsylvania's Automobile Lemon Law. H.B. 74, introduced by state Rep Pam Snyder would include motorcycles in the law's definition of a "new motor vehicle" and require manufacturers to correct any defects that impairs the use, value or safety of the vehicle and occurs within one year following delivery, within the first 12,000 miles of use or during the term of the warranty, whichever comes first.
The state House passed H.B.831 which gives motorcycles processions the same rights as funeral processions. State Rep Mark Keller, the bill's sponsor, said, "As an avid motorcycle rider who has taken part in many large group rides, said his legislation would bring group riders into compliance with the state vehicle code and make them safer for both the participants and other motorists." If passed by the state Senate and signed into law, the bill would allow motorcycle processions to proceed through red lights and stop signs, control and direct traffic and bypass motorcycle-only checkpoints.
S.F.2405 would permit motorcyclists to split lanes on public roads within the state if the rider does not exceed 40 mph and travels no more than 15 mph faster than surrounding traffic.The bill was referred to the Transportation Finance and Policy committee.
Lawmakers have passed H.B.161, which provides exceptions to Louisiana's anti-masking law, and sent the bill to the governor for signing. The bill exempts motorcyclist from the state law that prohibits the wearing of masks in public, except on holidays, such as Halloween. Motorcyclist in Louisiana said some overly zealous law enforcement officers have been using the anti-mask law to stop and cite bikers who were using face shields on their helmets.
A state law that bans the use of hand-held devices while driving a car took effect on July 23. Under the new law, anyone older than 18 may no longer hold a phone while driving,except to call 911 for emergencies or to activate or deactivate a call or select GPS navigation. Those younger than 18 already fell under those restrictions.
Nebraska  officials deployed eight trucks featuring safety messaging around the state as part of a 10-week program to promote motorcycle safety. The campaign by Nebraska Highway Safety Council was promoted by a spate of fatal motorcycle crashes this past summer. The state Department of Transportation, law enforcement agencies and motorcycle safety groups help with the campaign.
The following two tabs change content below.

Michael Theodore is married to Laureen, and both are devoted followers of Jesus Christ. Michael serves the Azusa StreetRiders Motorcycle Ministry as both National Road Captain and as Ohio District Coordinator. He is passionate not only about riding, but also using motorcycles as a witnessing tool to affect souls for the Lord Jesus.

Latest posts by Michael Theodore (see all)