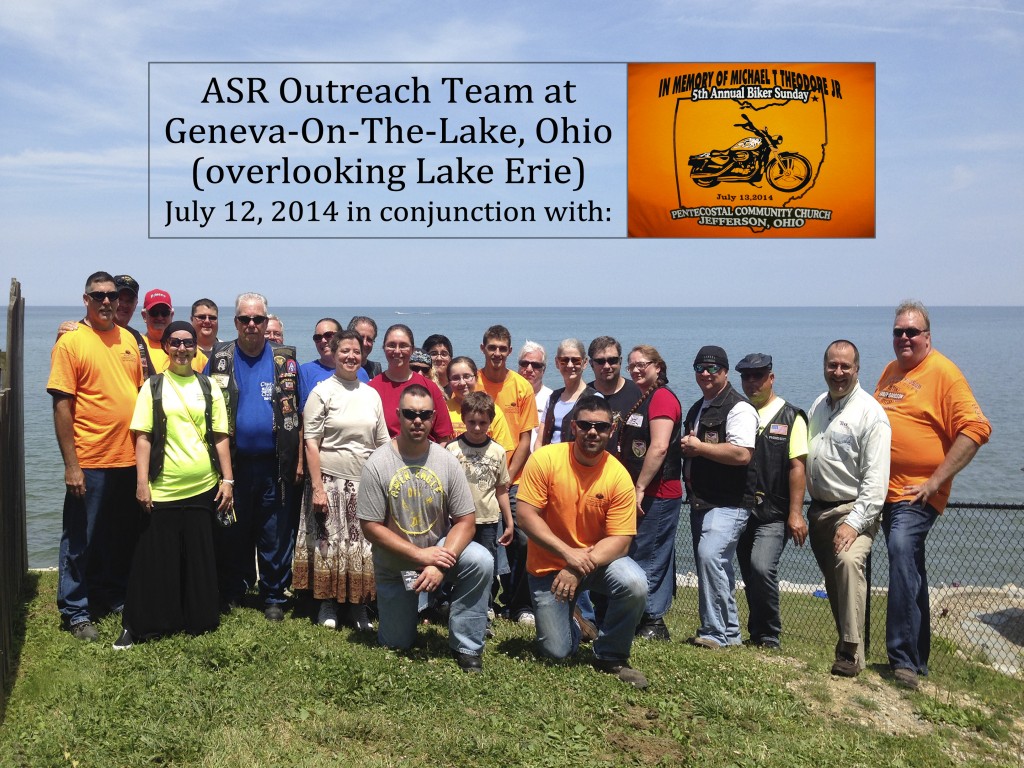 The following report is from Michael Theodore Sr, who serves as the ASR District Coordinator for Ohio, seen at far left in the above photo.
"July 11-13, 2014 was the 5th Annual Biker Sunday in memory of Michael Theodore Jr. This year we made our event for outreach and we added a pig roast to Biker Sunday. Our count of ASR members present was just shy of 30. We had members ride into northeast Ohio for the event from as far away as Nebraska, Missouri, Tennessee, West Virginia, and from all over Ohio.
"We started off the weekend with a meet-and-greet on Friday evening. This is a great way for members to get to know everyone and just relax from their day's ride.
"Saturday we had kickstands up at 10 AM. This was a day of riding up to Geneva-On-The-Lake, a biker town overlooking Lake Erie. Saturday was all about outreach. Once there we picked a spot to have Bro. Jim Curley (ASR National Chaplain) to give us a few words from the Lord, and then give us some great pointers on outreach. He then prayed over the 300+ dinner tickets that we were giving out to people to get them to come to our Biker Sunday/Pig Roast. We divided into teams of 2 to 4, and just took over the strip up there on the Lake in Geneva. It was totally amazing to see each ASR person working the street. To God be the glory. After spending a few hours in the hot sun passing out dinner tickets and witnessing to people, it was time to mount up and ride to someone else's benefit dinner. That's right, we all rode to a benefit dinner for a friend of ours who has a brain tumor.  As we all pulled into that church parking lot, everyone started to take notice. They were all wondering what was going on. We stayed for the dinner, and wow, did ASR evermore make a huge impact on this family. They indicated they could not thank us enough. Now this is what ASR is all about. It's not just about motorcycles or riding motorcycles. This is why I love my ASR family and this ministry. Saturday's unity for outreach was just awesome.
"Sunday was Biker Sunday. Kickstands up at 8:30. Well, with our group it was closer to 9. LOL. I looked on my radar and saw that it was raining up by the church, which was a 35-mile ride. I told everyone to put their rain gear on. Sis. Curley said, "Have faith." I smiled and said, "You don't live up here. You're going to get wet. Rain gear on." We headed north to the church. The only water we got was that which was already on the road from the prior rain that went through. Yes, Sis. Curley, there is power in prayer. Sunday's service was so anointed Pastor Doug Joseph (ASR District Coordinator for West Virginia) preached, giving us an amazing word from God. We had 3 people get water baptized in Jesus name, and one of them got filled with the Holy Ghost! Praise God. With all our hard work during outreach the prior day, we had 12 outreach dinner tickets come through the doors, of which two of those brought their entire family. So our count was about 20 that came as a result of God blessing our outreach effort. Praise God! After service was the pig roast and basket raffle. Delicious! The pork really hit the spot. As we were eating, one small cloud came through to dump some rain. However, once we all had eaten and the raffle was over, the sky got clear when it was time to ride. Sunday events are not over yet. Once we got back from our ride, everyone rested. Then we met up for dinner and some good ASR fellowship, one on one.
"I would like to thank all who made our weekend so wonderful. I love you guys and this ministry. From the Theodore family to yours, a big thank-you."
The following two tabs change content below.

What sets Azusa StreetRiders apart from every other Christian motorcycle ministry or club in the world? We are bikers of — The Name! And that name is — JESUS! Across the globe, nearly 700 Christian motorcycle ministries and clubs have been identified, but Azusa StreetRiders stands alone in professing and proclaiming the name of JESUS as the one name that fulfills all the qualifications of Matthew 28:19, the one name in which all believers are to be baptized (see Acts 2:38, Acts 8:16, Acts 10:48, Acts 19:5, etc.), and therefore the only name by which we must be saved — even as the scripture says: "Salvation is found in no one else, for there is no other name under heaven given to mankind by which we must be saved" (Acts 4:12 New International Version). We invite you to look around and get a feel for our ministry. Share any comments or questions that might be on your mind through our online comment areas. We hope you will step out of your comfort zone and take an amazing journey toward getting where you need to be in your personal and spiritual growth. We hope you have a wonderful, anointed experience with us as we fellowship together. If you have a prayer request or are in need of prayer, we invite you to submit that need to us. Your prayer request opens the door, and God is waiting patiently on the other side of that door, at all times, in all situations, to join with you. Please help support your Local Chapter of the Azusa StreetRiders. All donations go to help in various ways including the purchase of motorcycles for overseas missionaries and many other outreach programs. Do you know of anyone who rides? Please invite them to come and join us for a ride! Everyone is welcome, and all makes and models of motorcycles are welcome also.

Latest posts by Azusa StreetRiders International (see all)