Our newest "Honorary Members" of Azusa StreetRiders, Dr. and Sis. David K. Bernard, UPCI General Superintendent, with "Honorary Members" from last year, Rev. and Sis. Kenneth Carpenter ALJC General Superintendent at the 2015 Azusa StreetRiders National Rally; 7/30-8/1 in Maryville, Tennessee. They are pictured here with some of the Chapter Presidents of Azusa StreetRiders from the US and Canada
.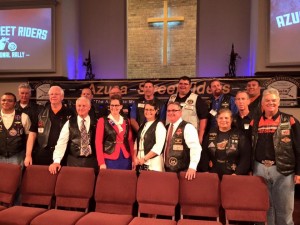 Azusa StreetRiders, the world's only Oneness Apostolic Motorcycle Ministry met in Maryville, TN at First Apostolic Church (Pastor Kenneth Carpenter) and 74 members from 18 states, Canada and Africa were in attendance.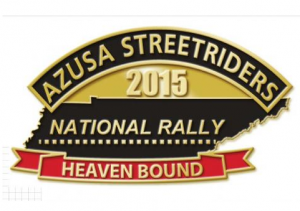 Thursday night, July 30, 2015, Rev. Jerry Richardson, the UPCI Regional Director to Africa, preached our "Motorcycles for Missionaries" service and reception was tremendous. He helped explain how the motorcycle gifts assist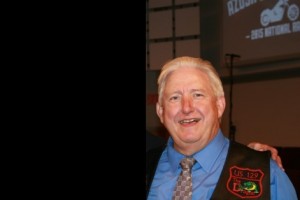 missionaries on the foreign fields. And on Friday night, July 31, 2015, Dr. David K. Bernard, the UPCI General Superintendent, preached "God is Able." Services were open to the public and both nights were very well attended. Following the Friday night service, we were honored to baptize two ladies in the wonderful Name of Jesus!
As always, the Smokey Mountains offer excellent motorcycle riding areas and Azusa StreetRiders took advantage them and great the weather! We had an awesome time of fellowship and renewal.
At the business meeting, two new officers were elected; Rev. Anthony Storey (President—Eminence, KY) and Rev. Jim Curley (Vice President—Ashland, KY). Bro. Robert Thompson (Maryville, TN) was retained as Secretary and Sis. Lydia Diaz (Mays Landing, NJ) remains Treasurer.
The Azusa StreetRiders are not about motorcycles or riding. We're about souls—Working for the Lord!
IT'S ALL ABOUT JESUS!