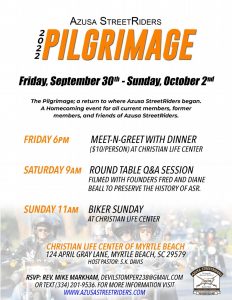 Azusa StreetRiders  Fall Pilgrimage In Myrtle Beach SC
Friday September 30th to October 2nd
There Is a Mexican dinner Friday night at 6:00 PM at Christian Life Center of Myrtle Beach (124 April Gray Lane, Myrtle Beach, SC), $10 per person. This will be the "Meet-N-Greet."
Saturday morning at 7:30 AM, we will go to Spring Garden Restaurant (1702 S Ocean Blvd, Myrtle Beach, SC 29577) a local breakfast restaurant.
At 9 AM Saturday after breakfast, we will go back to the church for the video session. Afterwards, since fall bike week will be in progress, we can go out to the vendor locations and other places and pass out flyers inviting people to the Biker Sunday the next day.
Sunday morning, everything starts at 10:30 AM at Christian Life Center).
 Host Hotel is the Landmark Resort
1501 S Ocean Blvd
Myrtle Beach, SC 29577
855-338-0226
For more information contact Fred Beall @
843-450-6200 or Mike Markham@
(334) 201-9536
The following two tabs change content below.

Michael Theodore is married to Laureen, and both are devoted followers of Jesus Christ. Michael serves the Azusa StreetRiders Motorcycle Ministry as both National Road Captain and as Ohio District Coordinator. He is passionate not only about riding, but also using motorcycles as a witnessing tool to affect souls for the Lord Jesus.

Latest posts by Michael Theodore (see all)