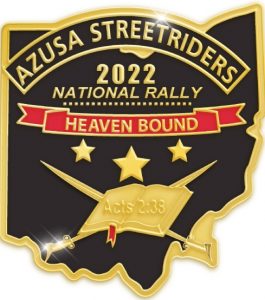 DO YOU NEED A MIRACLE???
COME EXPECTING AND BRING YOUR FRIENDS AND FAMILY
ALL SERVICES ARE OPEN AND FREE TO THE PUBLIC (DONATIONS ACCEPTED)
BOTH RIDES OPEN TO THE PUBLIC (SEE INFORMATION BELOW)
2022 AZUSA STREETRIDERS NATIONAL RALLY
ASR MEMBERS PLEASE PRE-REGISTER ASAP. WE HAVE TO GIVE AN ACCURATE NUMBER TO THE CATERERS 3 WEEKS PRIOR TO THE RALLY.
Wednesday August 3rd-Alter worker training session with Evangelist Charles Robinette at The Pentecostals of Champion 7:00pm. Meet and greet after service, location TBA
Thursday Aug 4th/Friday Aug 5th-Ride schedule
9:30am KSU leave Holiday Inn (Niles)
10:00am registration begins at Packard Music Hall
10:45am Thursday-Blessing of the bikes/Friday- Prayer for Military and First Responders
11:00am KSU leave for ride
1:00pm Lunch stop Thursday-Lake Shore park/Friday- Golden Corral
3:00pm KSU return ride back
4:00pm Arrive back at Hotel
6:00pm Prayer at Packard Music Hall
7:00 pm Packard Music Hall- Thursday-Motorcycles for missionaries service with Evangelist Charles Robinette/Friday-Church service with Evangelist Doug Klinedinst
PRAISE AND WORSHIP BY MARK CONDON
HOST CHURCH THE PENTECOSTALS OF CHAMPION (PASTOR MARK SEMRAU)
Saturday Aug 6th-ASR Business meeting at Packard Music Hall
8:00am Coffee and donuts
9:00am ASR business meeting
12:00pm Lunch immediately following the business meeting
Sunday Aug 7th- 10:00am Biker Sunday service at The Pentecostals of Champion with Evangelist Doug Klinedinst. Lunch following service followed by a short ride.
Cost for registration for non ASR members to ride Thursday and Friday-
$20.00 for Rider
$ 5.00 for passenger
ASR members 30.00 registration fee (this includes your rally pin, name tag, donuts and coffee for business meeting, catered lunch following the business meeting. Business meeting location is Packard Music Hall.
ASR cost for food (please pre-register)
$15.00 Thursday lunch on the ride
$10.00 Thursday after service snack
$15.00 Friday lunch on the ride
$10.00 Friday after service snack
The following two tabs change content below.

Michael Theodore is married to Laureen, and both are devoted followers of Jesus Christ. Michael serves the Azusa StreetRiders Motorcycle Ministry as both National Road Captain and as Ohio District Coordinator. He is passionate not only about riding, but also using motorcycles as a witnessing tool to affect souls for the Lord Jesus.

Latest posts by Michael Theodore (see all)