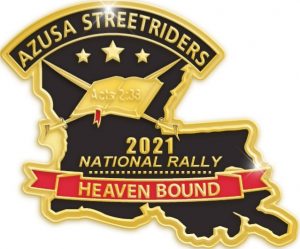 Registration is now open for the 2021 Azusa StreetRiders National Rally in Bossier City, Louisiana October 14-16. Instructions for pre registration- Log onto our website
azusastreetriders.com
and Click on events, scroll to National Rally and click on view details to register.  Make sure to add the lunch/dinner plans you will be attending.  Once you complete the registration make sure you receive an email to confirm you have completed the process and payment was received.  Please contact me for any questions or if you need help with registration.  We look forward to seeing you all at the National Rally!
25.00 Registration includes-Rally pin, Name tag, Business meeting donuts and coffee, Catered lunch for the Saturday business meeting.
God bless,  Sis Laureen Theodore ASR International Treasurer
The following two tabs change content below.

Michael Theodore is married to Laureen, and both are devoted followers of Jesus Christ. Michael serves the Azusa StreetRiders Motorcycle Ministry as both National Road Captain and as Ohio District Coordinator. He is passionate not only about riding, but also using motorcycles as a witnessing tool to affect souls for the Lord Jesus.

Latest posts by Michael Theodore (see all)