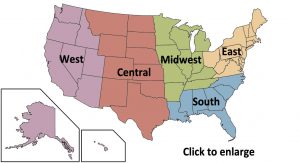 Information for State Watch is from the AMA
California
Senate Resolution 63, introduced by state Sen. Anna Caballero promotes increased public awareness on the issue of motorcycle profiling. The resolution also encourages collaboration and communication between the motorcycle community and local and state law enforcement agencies to engage in efforts to end motorcyclist profiling. It also urges state law enforcement officials to include statements condemning motorcyclist profiling in policies training materials.
Wisconsin
ABATE of Wisconsin reports that two state senators are circulating a draft bill that would allow retailers to dispense all blends of fuel through one pump nozzle. The bill (LRB2170/P1) would apply to fuel blends up to 15 percent ethanol (E15). The AMA joins ABATE of Wisconsin in opposing this bill, which would dramatically increase the likelihood of inadvertent misfueling by motorcyclists. No motorcycles or ATV's sold in the United States are certified by the EPA to operate on fuel containing more than 10 percent ethanol (E10).
Georgia
The Department of Driver Services Georgia Motorcycle Safety Program received a $83,464 grant from the Governor's Office of Highway Safety to help reduce motorcycle fatalities, increase driver awareness of motorcycles and educate motorcycle riders about safety initiatives. The grant allows the safety program to continue promoting state and national safety initiatives. The GMSP promotes driver awareness of motorcycles on the highways, rider education at 40 locations across the state and motorcycle safety initiatives. The GSMP operates motorcycle training for new and experienced riders. Classes focus on riding a motorcycle legally and safely."We want to ensure everyone has access to proper rider education," said Holly Hegyesi, GSMP Program Manager. "Motorcycle safety classes are essential for new and experienced riders, alike. Almost one third of motorcycle fatalities involve a rider without a valid license."
Missouri
Motorcyclist in Missouri will be required to wear helmets while riding, at least for another year, after the states legislature declined to overrule Gov. Mike Parson's veto of a bill that would have repealed the current motorcycle helmet law. Parson cited safety concerns raised by the state Department of Transportation in issuing the veto. Freedom of the Road Riders supported the bill, which would have provided riders and passengers 18 or older the option of going without a helmet,if they carried health insurance.
PRESIDENT SIGNS SCENIC BYWAYS ACT
The Program is Set To Revive
President Donald Trump signed H.R. 831,the Reviving America's Scenic Byways Act, on Sept 22,2019.
The bill requires the Secretary of Transportation to request nominations for, and make determinations regarding, roads to be designated under the national scenic byways program, which has been closed for six years. The AMA was part of the coalition that helped create this program in 1991 and played an active role in the efforts to revive the program. The program provides resources that help communities along designated byways benefit from the tourism they generate, while preserving the characteristics of the roads that made them great destinations in the first place. Even before the bill passed, officials said they were prepared to seek National Scenic Byway designation for 44 roads in 24 states.                                                                        Michael Theodore                                                                                                                National Road Captain
The following two tabs change content below.

Michael Theodore is married to Laureen, and both are devoted followers of Jesus Christ. Michael serves the Azusa StreetRiders Motorcycle Ministry as both National Road Captain and as Ohio District Coordinator. He is passionate not only about riding, but also using motorcycles as a witnessing tool to affect souls for the Lord Jesus.

Latest posts by Michael Theodore (see all)