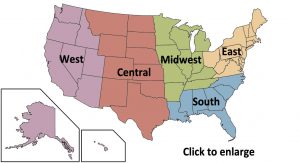 Articles for State Watch are from the AMA
Pennsylvania
State Sen. Camera Bartolotta (R- Monongahela) has introduced legislation prohibiting grass clippings from road ways. She said clippings can cause the surface of the roadway to become extremely slippery, causing motorcycle crashes. Grass on the roadways can also clog storm drains and contribute to run off pollution into streams.
Bartolotta's bill would treat offenses related to grass clippings on roadways in the same way as other litter. Fines would range from $50 to $300 for a first offense and $300 to $1,000 for a subsequent offense. Offenders also would be required to remove clippings from the road.
Texas
A bill to include motorcycles in the states electric vehicle rebate program failed to make it to the Senate floor. S.B 486, sponsored by state Sen. Kirk Watson (D-Austin) would have allowed a rebate of as much as $2,500 for the purchase of an electric motorcycle.
The AMA believes this bill was important because it would have ended a discriminatory policy against motorcyclists, who should be eligible for the same benifits as other motor vehicle owners.
Ensuring motorcyclists have access to the same rights and programs as the owners of other vehicles is a key goal. Importantly, this bill also recognized motorcycles as part of the future of transportation and something to be encouraged and incentivized for the benefit of all road users.
Missouri
A bill passed by legislature would allow motorcyclists 18 or older to ride with out a helmet. The bill also requires motorcyclists to be covered by heath insurance policy before riding without a helmet.
Michigan
Secretary of State Jocelyn Benson unveiled the awareness campaign "Motorcyclists Are Hard to See. Look Twice. Save a Life" The campaign is amid at preventing motorcycle crashes in Michigan by teaching people about the importance of constantly looking for motorcycles while driving. The effort will include billboards,radio ads and social media spots. It will be funded through the Motorcycle Safety and Education Fund, which was created by the Michigan Legislature.
Louisiana
H.B.141, which creates a law enforcement training program on motorcyclist profiling, passed the House, 91-0, in May and passed the Senate, 38-0 in June and was signed by the Governor. The bill defines motorcyclist profiling as the "arbitrary use of the fact that an individual rides a motorcycle or wears motorcycle-related clothing pr paraphernalia as a factor in deciding to stop,question,take enforcement action,arrest or search the individual or his motorcycle or motor vehicle"
Michael Theodore
National Road Captain
The following two tabs change content below.

Michael Theodore is married to Laureen, and both are devoted followers of Jesus Christ. Michael serves the Azusa StreetRiders Motorcycle Ministry as both National Road Captain and as Ohio District Coordinator. He is passionate not only about riding, but also using motorcycles as a witnessing tool to affect souls for the Lord Jesus.

Latest posts by Michael Theodore (see all)