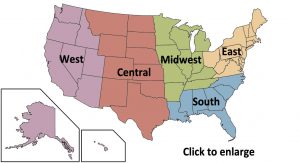 State Watch is from the AMA
New York
New York Assembly Members introduced A.B. 6080, which would exempt all motorcycles from congestion pricing program fees if such a program is adopted. Current and past congestion pricing proposals for New York City would have charged motorcycles the same amounts as cars and trucks. The AMA is urging New York riders to write to their New York State Assembly members in support of this commonsense legislation that recognizes the benefits of motorcycling for city traffic.
New York
The AMA is supporting an effort by Harley Davidson to expand the state's Drive Clean Rebate program for electric vehicles to include motorcycles. Currently, the program is limited to four-wheeled vehicles. The rebates available through the program range up to $2,000.
North Carolina
A state house committee has approved a mandatory-helmet repeal bill, H.B. 267 The bill would require helmets for riders younger than 21, but would allow those 21 and older the option of riding without a helmet.
In a story in the Raleigh News & Observer, the bill sponsor- state Rep.John Torbett said, "It's not a matter of wearing a helmet or not wearing a helmet. It's just a matter of, 'Does a state tell you to wear it?"
Texas
S.B. 273 would allow lane splitting in congested traffic if the motorcyclist is traveling no faster than 20 mph and no more than 5 mph faster than surrounding vehicles. The provision would apply only on limited-access highways. The companion bill is H.B.1270. The AMA fully supports both bills.
Utah
Utah became the second U.S. state to formally recognize a type of lane splitting,with the governor's signature on a bill legalizing the filtering of motorcycles between lanes of stopped traffic. H.B. 149 allows motorcyclists traveling no faster than 15 mph to filter between lanes of stopped traffic traveling in the same direction on roads where the speed limit is 45 mph or less.
Virginia
The Virginia Senate and house of Delegates passed bills prohibiting motorists from touching their cell phones while driving. The bills would allow the use of hands-free mode.
State law currently prohibits only reading email or text messages or manually entering letters or text in a hand-held personal communications device while driving. It is still legal to operate phones while stopped or while reporting an emergency.
Michael Theodore
National Road Captain
The following two tabs change content below.

Michael Theodore is married to Laureen, and both are devoted followers of Jesus Christ. Michael serves the Azusa StreetRiders Motorcycle Ministry as both National Road Captain and as Ohio District Coordinator. He is passionate not only about riding, but also using motorcycles as a witnessing tool to affect souls for the Lord Jesus.

Latest posts by Michael Theodore (see all)