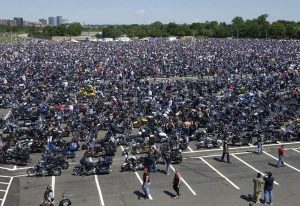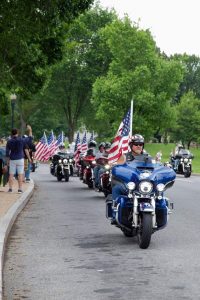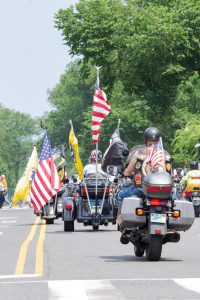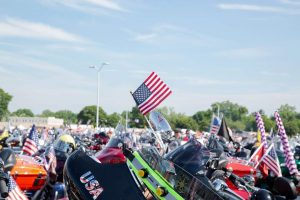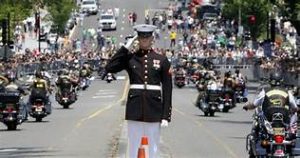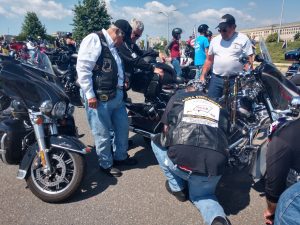 So thankful for the opportunity to attend Rolling Thunder 2019
with some awesome ASR members. Robert Thompson, Tom & Renaye Thompson, Jeremiah Hayes, and his father Delbert Hayes and new member Norman Knight. We started out meeting up in Clarksburg, WV. We met up for dinner with ASR members Brother and Sister Joseph and Nathaniel and Brandy Benedum for some good fellowship. On Saturday morning we had a very nice scenic route picked out for a ride over to Rockville, Maryland. The ride was great except for the area's where the road disappears from your GPS lol. Man  you can have that crazy DC city outer city traffic. Sunday we were up very early to ride over to the Harley Davidson dealership to line up for the escorted ride in to the pentagon. It was already a sight to see so many bikers at the dealership.

 Jeremiah Hayes said it best when we were in Washington DC  for Rolling Thunder
"I
f you can experience the level of patriotism and respect for our armed forces and veterans that was present during this event, and it not affect you, something is wrong
"
. It was truly an unforgettable moment, and at times, it was hard to hold back the tears thinking of so many that have sacrificed for the freedoms you and I to enjoy every day.
Fighting back tears is what we
all
did on our escorted ride to the pentagon. As we left the Harley Davidson dealership in Rockville MD all streets were blocked for us the entire route. On the sides of the roads and over every bridge were people waving to us flying American and military flags. You just couldn't help getting emotional. It was truly a real blessing to take part in this awesome event. Which broke an all time high record that they estimated between 1.3 to 1.7 million bikers praise God that's just totally awesome. I'm just glad I was able to be a part of this wonderful event with some of my ASR family.  Thank you  for letting me be your Road Captain on this journey. And a big thank you to Jeremiah Hayes for coming to the rescue of a down biker and fixing his bike.
Michael Theodore                                                                                                                      National Road Captain
The following two tabs change content below.

Michael Theodore is married to Laureen, and both are devoted followers of Jesus Christ. Michael serves the Azusa StreetRiders Motorcycle Ministry as both National Road Captain and as Ohio District Coordinator. He is passionate not only about riding, but also using motorcycles as a witnessing tool to affect souls for the Lord Jesus.

Latest posts by Michael Theodore (see all)