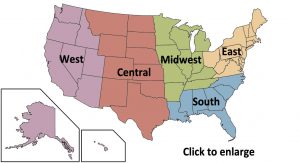 Ohio
House Bill 548, which would allow motorcyclist to wear earplugs while riding,it passed the state House and has been  referred to the state Senate Transportation, commerce and workforce Committee. Ohio is one of a few states where earplugs are prohibited while riding.

Iowa
All-terrain vehicles and other four wheel utility vehicles can now legally operate on gravel roads in Des Moines County, Iowa. The county began considering the move after receiving petitions containing more than 1,000 signatures. ATV'S and UTV'S also will be allowed on paved roads to get from one gravel road to the another. Among the restrictions reported by Tri-States Public Radio: ATV use is prohibited between 10 pm and 4 am. Vehicle operators must be 18 or older and have a valid drivers license; vehicles can not be three-wheelers; vehicles may not be driven in ditches; maximum speed is 35mph; passengers are prohibited. Those wishing to operate an ATV on a county road must buy an annual $25 permit.

California
Waymo, the self-driving vehicle unit of Alphabet, has obtained permission to test fully automated cars on California's public roads. The company, the first to receive a driverless permit in the state,plans to keep it's vehicles in the neighborhoods of Mountain View, Sunnyvale. Los Altos, Los Altos Hills and Palo Alto, according to a report by Verge.com. Waymo's permit includes day and night testing on city streets, rural roads, and highways with posted speed limits of up to 65 mph. Arizona also allows Waymo to operate driverless cars.
Lets hope that they have high tech sensors to see motorcycles.

The following two tabs change content below.

Michael Theodore is married to Laureen, and both are devoted followers of Jesus Christ. Michael serves the Azusa StreetRiders Motorcycle Ministry as both National Road Captain and as Ohio District Coordinator. He is passionate not only about riding, but also using motorcycles as a witnessing tool to affect souls for the Lord Jesus.

Latest posts by Michael Theodore (see all)