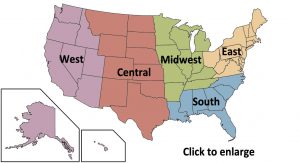 California
The state's bill to protect motorcyclists from profiling by law enforcement officers failed to move forward. The bill, AB 2972, cleared the policy committee on a 5-2 vote. But the measure met opposition on the Assembly floor. Several lawmakers abstained, resulting in a 28-24 vote against the bill, which would prohibit law enforcement officers from stopping and questioning motorcyclist based on their choice of vehicle or clothing. Assembly member Anna Caballer, who introduced the bill was granted reconsideration, but ultimately pulled the bill when it became clear it wasn't likely to pass.
Minnesota
The state Legislature passed S.F. 3466, which allows people possessing a motorcycle learner's permit to ride a motorcycle on interstate highways and expressways. A person 16 or older who has a valid drivers license may obtain a motorcycle learner's permit by passing a written examination and paying a fee.
New Hampshire
Gov. Chris Sununu signed S.B. 516 into law prohibiting motorcycle -only checkpoints by law enforcement agencies in the state.
Tennessee
S.B. 680, signed by Gov, Bill Haslam, removes a restriction that off highway vehicles only be operated on public streets and roads during one day of each of two big event weekends each year in Scott County. The new law specifies that the off-highway vehicles may be operated untill midnight. The law became effective on May 3rd.
Michael Theodore
National Road Captain
The following two tabs change content below.

Michael Theodore is married to Laureen, and both are devoted followers of Jesus Christ. Michael serves the Azusa StreetRiders Motorcycle Ministry as both National Road Captain and as Ohio District Coordinator. He is passionate not only about riding, but also using motorcycles as a witnessing tool to affect souls for the Lord Jesus.

Latest posts by Michael Theodore (see all)