Click to download PDF: ASR Event Lifeline Connect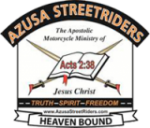 Coast-to-Coast Motorcycle Ride
Azusa StreetRiders, the Apostolic Motorcycle Ministry of Jesus Christ is helping Lifeline-Connect of Urbana, IL, 
a Christian faith-based solution to life-controlling drug and alcohol addictions with a fundraiser. Its mission is to help men rebuild their lives emotionally, financially, physically, socially and spiritually. Its 11-year track record claims a recovery success rate of approximately 70%. At present, they can only house 6 men at a time and the Coast-to-Coast Ride is a fundraiser to raise $100,000 need to build a 24-man facility.
Dates: May 27-May 31, 2018
Where Starting: Azusa Street Mission, Los Angeles, CA
Where Ending: White House, Washington, DC (Route Shown on Map above)
Overnight Stops: 27th Winslow, AZ; 28th Amarillo, TX; 29th Springfield, MO; 30th Richmond, IN; 31st Washington, DC
This is a fundraiser! Please secure sponsors and join us for the fun and fellowship. Any donation is appreciated. Join the ride at any point along the way and ride however far you are able.
The following two tabs change content below.

Michael Theodore is married to Laureen, and both are devoted followers of Jesus Christ. Michael serves the Azusa StreetRiders Motorcycle Ministry as both National Road Captain and as Ohio District Coordinator. He is passionate not only about riding, but also using motorcycles as a witnessing tool to affect souls for the Lord Jesus.

Latest posts by Michael Theodore (see all)