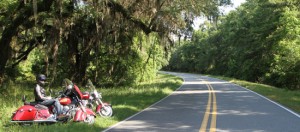 Touring Tip: Planning and Preparation
With the arrival of warmer temperatures, snow is melting and it's time to get out and explore new roads and destinations. Before leaving home, though, some planning and preparation is in order.
Planning
1. Roads: I am an avid collector of moto-roads, particularly those that haven't been ridden by me—but need to be. They' re identified by reading the accounts of other riders and by—obsessively—perusing paper and computerized maps over the winter months. My primary sources of information include:
MotorcycleRoads.com
AmericaRideMaps.com
H-D Ride Planner
MotorcycleRoads.US
SundayMorningRides.com
OpenRoadJourney.com
And the good old paper Road Atlas
There is a wealth of information available to uncover the best moto-roads. My favorite roads usually have one or more of the following characteristics:
A rural, bucolic landscape,
Areas not previously visited,
Frequent elevation changes,
Lightly trafficked, and/or
An interesting destination.
The moto-roads of greatest interest can be catalogued on a simple list or, preferably, on a multi-state road atlas or a computerized mapping program.
2. Destinations: Obviously, motorcycle touring isn't just about the roads. Interesting destinations are also important, particularly when they can be combined with a favorite road to get there. Accumulating destinations can involve the same resources listed above for identifying favorite roads. But, the list of other resources for targeting destinations is virtually limitless. Various state and national travel publications can be highly useful. I frequently cut out selected destinations in the travel section of the newspaper. Every state and many municipalities have dedicated tourism web sites that can be helpful in identifying destinations and also lodgings and restaurants.
Once you have established all your destinations  which will be interesting for you the rider. You can keep track of all the most interesting ones. By placing them in a paper folder  with tabs for each state.Or install your all your maps,roads, and destinations on your computer.
As riders we think about where to go and what to see, the maps of favorite roads and destinations can then be used to focus on particular geographic regions in order to get the most out of a planned tour.
Preparation

It almost goes without saying that before leaving on a multi-day trip, the motorcycle and its rider should be in tip-top condition.
1. Motorcycle:

 
If the bike has been idle for several months, certain maintenance steps should be taken before departing on a tour:
Consult the owner's manual and service records,
Check fluids and replace as necessary,
Check brake pad wear and replace if needed,
Lubricate the clutch cable and other external moving components,
Check tire condition and adequacy of tread depth and replace, if required,
Inspect hand and foot controls for proper functioning,
Check torque settings of key threaded fasteners, like those on axles, brake calipers, etc.,
Be sure that lights, switches, gauges, and other electrical components are operating properly,
Check age of battery and replace if several years old, and
 p

erform a detailed visual inspection and do a test ride to determine if the bike has any other mechanical or electrical issues that should be addressed before departure.
2. Rider:

 
While daydreaming about routes, roads, and destinations during the winter months, I'm often overly optimistic in planning trips for the coming season. Let's face it riding a motorcycle is more exhausting than driving a similar distance in a car. So it's important that riders be realistic about their physical and other capabilities when planning trips. Here are some things to consider and do:
Remain physically active during the riding off-season, with particular emphasis on core body strength and general stamina,
Make sure there has been no uncorrected diminution of eyesight,
Do some parking lot practice drills to re-sharpen key riding safety skills, including panic stops, negotiating tight corners, taking evasive maneuvers like swerves, slow riding maneuvers, etc.,
Go on one or more day rides with a fully loaded bike (and passenger) and re-familiarize yourself with the bike's handling characteristics when it's carrying greater weight, and
Practice on-road safety techniques, like looking far ahead of the front wheel, spotting potential hazards, 360º threat awareness, defensive lane positioning, looking through curves, etc.
Well, now you should be ready to enjoy another exhilarating season of motorcycle touring.
Michael Theodore
Azusa StreetRiders National Road Captain
The following two tabs change content below.

Michael Theodore is married to Laureen, and both are devoted followers of Jesus Christ. Michael serves the Azusa StreetRiders Motorcycle Ministry as both National Road Captain and as Ohio District Coordinator. He is passionate not only about riding, but also using motorcycles as a witnessing tool to affect souls for the Lord Jesus.

Latest posts by Michael Theodore (see all)