It has been a real busy summer for me with our chapter and with out with outreach.
We have been busy riding to many different places and events here in NE Ohio to ASR events and non ASR events.  I didn't post last month in the newsletter ok I am hearing those cheers LOL. So glad many more members took the time to write last month. So please keep it up so I don't bore everyone with my newsletter  post. Because you all know I could fill up a full magazine with my on and on articles hint hint LOL.
Ok all start with back in July we held our 6th Annual Biker Sunday in Memory of Michael T Theodore JR. What a huge success we started of the weekend  with our meet & greet on Friday. Then on Saturday was our outreach ride. Once again it was all worth it because we had someone show up on Sunday do to Saturdays outreach. On Sunday was our Biker Sunday with the  Michael T Theodore JR. pavilion dedecation service and food followed by a ride. We had one person get baptized praise God. Thank you to all ASR members who joined us on our special day. We were able to raise our funds for motorcycles for missionaries. I am working on something different for next year.
The ASR National Rally what can I say. It is always a wonderful time of fellowship,riding and great church service. Just an awesome time I am glad I got to meet a lot of new members. 
On to Rally On the River in Ironton, Ohio. I love riding to this event to help out Bro Curley and the Ashland, KY chapter with outreach. I tired to get as many Ohio members to ride down but seemed  that weekend everyone had something going on. So I got a hold of some members from a church that I had went there to try to recruit members. Thought what better way for them to find out what ASR is about. I was happy when two of them said yes they would like to ride down with me. They got a first hand view of seeing what we do hopefully in time they will send in their ASR applications.
I have to share this with all of you because it made my day and shows you that outreach works and makes a huge impact. A few days after the Ironton rally I rode over to my Harley shop to spend one of my gift cards. As I was walking around I noticed a guy with this years Ironton event shirt on. No way so me being well me. I had to walk over to him and talk to him. I asked him if he went to the rally or if someone bought the shirt for him. He said he rode down on Saturday. I said no way so did I. I then turned around and said did you see us showing him my ASR patch on my vest. He said yes I saw you guys praying in a group. I then asked him did he come over to us. He then pulls out of his wallet a card and he gave it to me to look at. Thank you bro Curley it was your card he had in his wallet. In the course of the day Bro Curley stopped to talk to this man. He goes on to tell me That this nice gentleman pointing to the card asked him to a church service but he told bro Curley he was heading back home. Praise God the man did take that card though. This made my day as I talked to him in the HD shop for about 45 minutes. We exchanged numbers I invited him to church which he has not come yet. But will keep following up with that. I asked him to join our chapter on a lunch ride coming up in October.
September I rode down to Pikeville, KY for their Biker Sunday what an amazing time in service we had I might have the numbers wrong but I think there was 3 people receive the holy ghost and 3 people baptized and one person got renewed praise God. Bro Curley was the guest speaker and he gave us a wonderful word form the Lord. Thank you Bro West and your church what a wonderful time. Looking forward to next years event.
No sooner I get home we have to get ready for the huge bike event here up on Lake Erie. Thunder on the Strip at Geneva on the lake. This is a huge biker town right on the shores of lake Erie. This year the city of Geneva wanted to try something new and add another event to the huge bike event to get even more people to come to Geneva and Geneva on the lake instead of just bikers. The City and organizers for another festival called my pastor and asked if we would be a sponsor a silent sponsor. The Festival which is called Bacon & Beer Festival. Yes I know what your thinking and saying. But outreach is outreach correct. The plan was to set up an ASR Booth and church booth at this festival. But the city  decided to wait till next year in 2016 to add this. My guess is they proboly didn't have enough vendors in such a short time. When time gets closer I will ask all Ohio members to help join us at this event.
Since that festival was a no we headed up to Thunder On the Strip for the weekend. This year the weather was not nice to us up on the lake. It was cold windy and off and on rain all weekend. We stopped by the Bikers for Christ booth and hung out with them for a while. Really just to stay dry LOL Did I say that out loud. Their group just stayed in the tent at the booth and never walked around. I'm sorry but If your waiting for people to come to you your going have a long wait. Get up and go to them. But I give them credit they were there with a booth.
With the weather not nice the attendance was way down usually the event sees well over 3,000 bikers this year about 1,000. Looking forward to next years Thunder on the strip with the bacon & beer festival.
October is here and our chapter has two more dinner/lunch rides and there are two events that I just added that I would like to go to. Guess its good to be busy.
Hope everyone had a great summer and are still enjoying getting on your bikes and getting a chance to ride somewhere.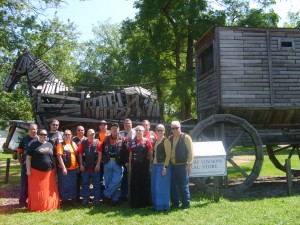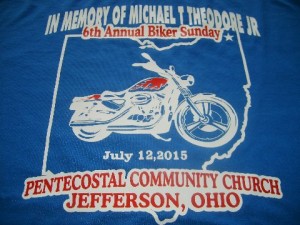 The following two tabs change content below.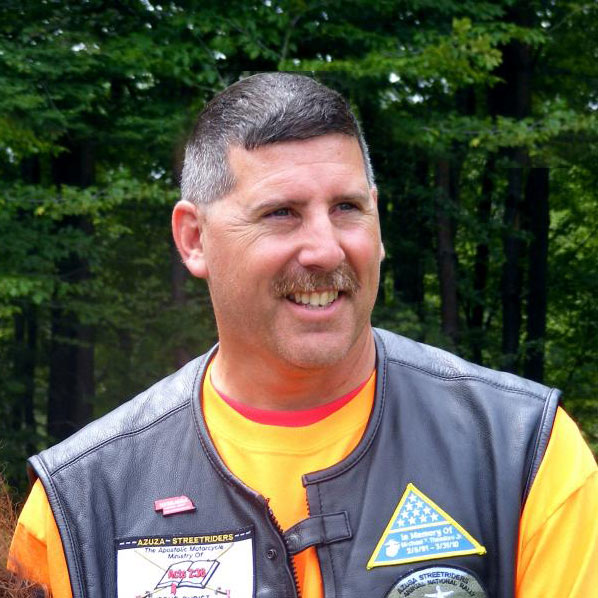 Michael Theodore is married to Laureen, and both are devoted followers of Jesus Christ. Michael serves the Azusa StreetRiders Motorcycle Ministry as both National Road Captain and as Ohio District Coordinator. He is passionate not only about riding, but also using motorcycles as a witnessing tool to affect souls for the Lord Jesus.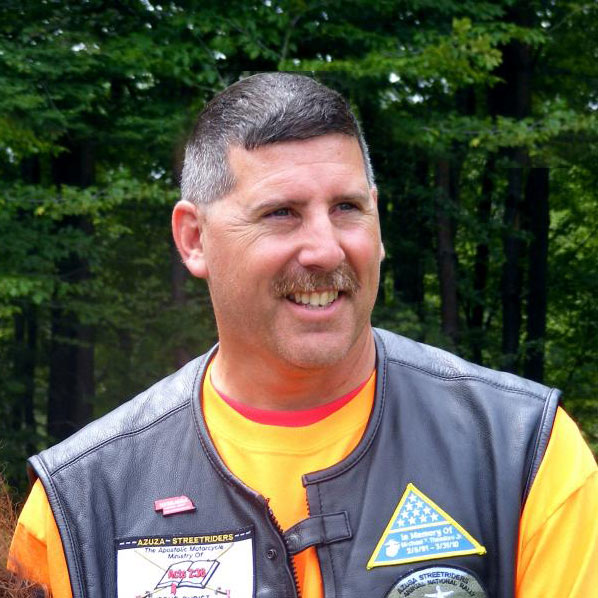 Latest posts by Michael Theodore (see all)