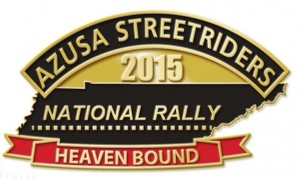 Now is the time to register for the upcoming rally in Maryville, TN.  If you register now for $23.00 you will save instead of $30.00 at the door.  Registration includes name tag, Saturday morning snack, lunch and ASR Rally pin.
I have also added prices for  children's lunch.Teen 12-17 $7.00   Children 6-11  $5.00  under 6 FREE.
Please click on this link:
https://www.azusastreetriders.com/store/2015-early-asr-rally-registration/
Online registration ends July 1, 2015 and will be $30.00 at the door so hurry and Pre-Register to get our first rally pin. We need to make sure we have plenty on hand.
If you want to send in a check please send it to:
Azusa StreetRiders,  PO Box 375,  Mays Landing, NJ 08330
Please include:
Name of Registrant, Address, Email and Phone#
Please remember that we will be voting for President and Treasurer this year. Your dues must be current prior to the rally to vote.
Evangelist Lydia Diaz
ASR Treasurer
The following two tabs change content below.

Lydia Diaz and her husband, Extor Diaz, are ASR Ambassadors, traveling to many different meetings to represent the ministry, and she also operates the ministry's fundraising efforts through product sales. She served on the board for 7 years as the first ASR Treasurer. They live in Byron, GA.

Latest posts by Lydia Diaz (see all)