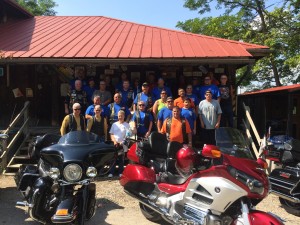 The day started with our annual bike show. This year we changed things up and had the bike show first, right in the middle of town! We had a good response, but with the threat of storms all day it keep our offical regastration to 38 bikes, however 50 acually participated. Many people stopped in to see the motorcycles or make donations from 9:30 till around 1:00 pm. We estimate that between 175 and 200 people came through either to look or sign up for the bike show. Others just came to ride to Rabbit Hash, KY with us. Rabbit Hash is just a little over 70 miles from Eminence. It is a local biker hang out. All but two visitors had never attended before, so we were able to witness and tell many more about Jesus and the ASR.
The Lord was kind to us and kept the storms away 'till all had returned home or to local hotels. We had an awesome ride to Rabit Hash through five counties and some hills, but most of the ride was along the Ohio River. Throughout the day, we had many opportunities to witness to people and had a new member sign up for ASR in the Northern KY Chapter. Thank you Jesus! All in all it was a sucsessfull day. We raised $570.00 dollars for the KY Wounded Warrior Project and so far we have raised $380.00 for ASR's Motorcycles for Missionaries.We are trusting the Lord for the ability to raise the remanding $620.00 to achieve our $1,000.00 Chapter goal.
We would like to thank all who were able to join us this year and all that covered us in prayer! We love y'all and this wonderful ministry! All the members of the Northern Kentucky Chapter send their thanks for your support. May God Bless each and everyone of you for all that you do for His kingdom!
Rev. Anthony Storey, ASR Vice President