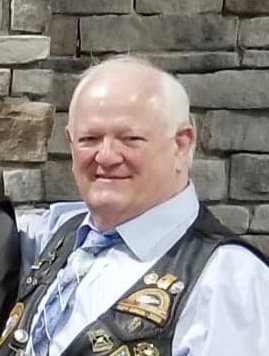 We were excited at our turnout for our biker weekend  in Omaha.  We had seven states represented ; Texas, Alabama, Indiana, Ohio, Missouri, Iowa, and Nebraska.  Our meet and greet was fun, meeting new riders while enjoying pizza's from Godfathers and Valentino's both businesses originating here in Nebraska.
our Saturday morning ride kicked off and we headed toward out on our ride westward.  We stopped in the town Wahoo to gas up get drinks and munchies.  While there we met a group of riders who were from the Omaha metro area.  We invited them to church and gave them church cards.  Before leaving Bro Michael Theodore was getting ready to buy his drink when a lady spoke up and told him she was paying for it.  She said she was happy to see someone promoting the gospel.  We gathered in the parking lot and had prayer for the town of Wahoo before leaving.  We then headed to Seward, Nebraska where Pastor Timothy Daywitt and church family had prepared a BBQ meal fit for a king.  I am excited to report that ASR blessed the church there with a free will donation of $650.00.  Pastor Daywitt said he was impressed with the friendliness of everyone and stated that anytime we wanted him to fix BBQ for a biker event he would be happy to do so.  We gathered on the front steps of the church and prayed for Brother and Sister Daywitt.   There were 23 bikes lined up at the church for the lunch and an estimated 30 riders.
After leaving Seward we headed back east and headed to a stop for the ladies, Bakers Chocolate Factory in Greenwood, Nebraska.  There were lots of smiles.
Our Sunday service saw a close to full house.  District Superintendent Myron Powell preached a wonderful message and God moved in the altar service.  ASR really made an impact upon Nebraska.  There were seven pastors involved in our weekend, four of those are on the district board.  I look for this to be the start of great opportunity for ASR growing in Nebraska.  Following our Sunday service and lunch provided by Apostolic Life Center, some of us headed out to the Black Hills.  We stopped in Norfolk where Pastor Danny Wilson and wife, Rebeka, we're holding their inaugural service of The Refuge Church.  ASR members gathered around Bro and Sis Wilson and prayed for them.  This is the ministry of ASR in action.
My thanks to Bro Clarence Earp for calling me last year bringing the idea of a biker weekend coupled with his Black Hills ride.  Thanks also for Bro Michael Theodore's help in my planning this event.  His experience was extremely valuable to me.
Nebraska was truly blessed by ASR and look forward to becoming an active arm of this ministry here in the Midwest.
This is a group picture with our back patch showing so you can see where we are from.