October 14, 2021 - October 16, 2021




6:00 pm - 2:00 pm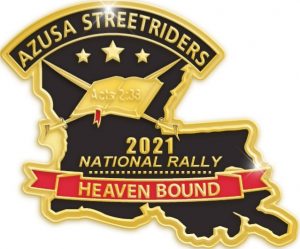 Host Church THE PENTECOSTALS OF BOSSIER CITY,LA
2833 Viking Dr Bossier City, Louisiana
Group Name: AZUSA STREETRIDERS
Group Code: MM87X3
 Host Hotel
is the
Comfort Inn & Suites in Bossier City. It is only 5 miles from the church and it is a straight shot using I-220 bypass to the church. We have blocked 40 rooms in a 83 room hotel with a promise that more rooms could be made available if demand is great. The block is for Thursday and Friday night October 14-15, 2021. Those wanting to extend their stay (or come early) will get the same offer as the block if they use Azusa StreetRiders name.  The usual rate per night at this property is $121.00 a night.
Our rate is $82.00 per night.
I fought for this rate because of the budgets of some not willing to pay the higher amounts. My goal is to price rooms so everyone can stay at the same hotel.  There aren't many hotels at this rate in Shreveport-Bossier City unless you want a budget no-frills room.
They do have a breakfast (Covid limited for now) but expected to be a full hot b-fast by next year.
MORE INFORMATION TO FOLLOW AT A LATER DATE
Description: