August 4, 2022 - August 6, 2022




8:30 am - 2:00 pm
August  3-7 2022
Warren, Ohio will be the host.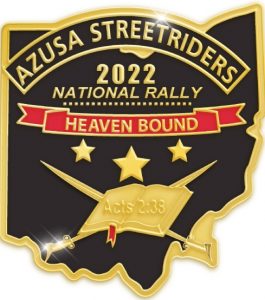 HOLY GHOST OUTPOURING
The location will be at an event venue that will accommodate 2,500. Our speakers will be Thursday night Evangelist Charles Robinette and Friday night speaker will be Evangelist Doug Klinedinst. The host church is The Pentecostals of Champion Pastor Mark Semrau. This is going to be a Holy Ghost outpouring just like the Azusa Street revival with miracles, signs and wonders.
We will be having a teaching session at The Pentecostals of Champion with Evangelist Charles Robinette for anyone that can be there on Wednesday August 3rd at 7:00pm.
For anyone staying for The Pentecostals of Champion Biker Sunday. There will be a ride on Saturday after the business meeting. Then fellowship and food at the Pentecostals of Champion.
Warren, Ohio  biker Sunday with Evangelist Doug Klinedinst August 7th at The Pentecostals of Champion  308 Cleveland Avenue East  Warren, Ohio 44483 At 10:00 AM.
Food and a short ride after service.
Host Hotel is the Holiday Inn Express & Suites
This time of year is our busy time with all sorts of events going on in the area. We have been blessed with a group block rooms at $109.00 plus tax a night for standard King room or for a standard double queen room. Also you can do an upgrade for $10.00 more to a King Suite room at $119.00 plus tax a night. The cut off date to book your room will be June 29,2022.
https://www.ihg.com/holidayinnexpress/hotels/us/en/find-hotels/hotel/rooms?qDest=135%20Highland%20Terrace%20Blvd.,%20Warren,%20OH,%20US&qCiMy=72022&qCiD=3&qCoMy=72022&qCoD=7&qAdlt=1&qChld=0&qRms=1&qRtP=6CBARC&qIta=99801505&qGrpCd=azr&qSlH=NILOH&qAkamaiCC=US&qSrt=sBR&qBrs=re.ic.in.vn.cp.vx.hi.ex.rs.cv.sb.cw.ma.ul.ki.va.ii.sp.nd.ct.sx.we.lx&qWch=0&qSmP=1&setPMCookies=true&qRad=30&qRdU=mi&srb_u=1&qSHBrC=EX&icdv=99801505
If you need to call to book your room the number for the Holiday Inn Express & Suites is 330-544-8807
OTHER HOTELS IN THE AREA ARE
FAIRFIELD INN by MARRIOTT
330-544-5774
1860 Niles-Cortland Rd SE Warren, Ohio 44484
Hampton INN & Suites
330-652-1277
5581 Youngstown Warren Rd Niles, Ohio 44446
Contact Michael Theodore at 330-720-0440  or email  blueknight1703@aol.com