July 29, 2020 - August 1, 2020




10:10 am - 2:00 pm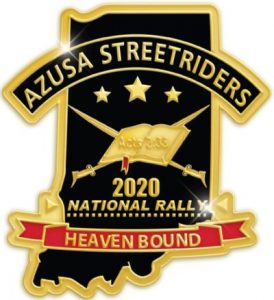 2020 National Rally Nashville, Indiana
July 29-Aug 1
We, in the Illiana Region, are very excited to welcome you to our neck of the woods. If you've never been to Brown County, they have two names to fame…"Little Smokeys" and "Little Nashville", and just a few miles up the road in Bean Blossom IN is the Bill Monroe Bluegrass Festival. I do believe this rally will be worth your while to attend!! The Pentecostals of Nashville (Pastor DuPree) are looking forward to hosting our nightly services, and you will enjoy the Hoosier Hills of Southern Indiana…not to mention the shops that line the streets of downtown Nashville! We welcome you!
Below you will find accommodation information that will be helpful in setting up your reservations.
HOTEL ACCOMMODATIONS:
Seasons Lodge:
http://seasonslodge.com/content/reservations-rooms
1-800-365-7327 (Special Rates under Azusa Streetriders)
Standard Rooms Wed-Thurs @ $90/night
Fri @ $119/night
(Standard rooms have one queen size bed or two queen size beds)
Deluxe Rooms Wed-Thurs @ $99/night
Fri @ $139/night
(Deluxe Rooms are bigger rooms, also have small fridge, microwave, and private balcony. A few King size but most 2 queen size beds)
Two two room Suites at $199.00 per night
All rooms are plus 12% tax
CAMPING:
For those looking for camping…I have listed several locations below. The one in Gnaw Bone is the closest to the church so listed it first.
http://www.gowestwardho.com/
http://www.lastresortrvpark.com/
https://koa.com/campgrounds/brown-county/
https://explorebrowncounty.com/camping
You can check with Brown County State Park, but from all that I saw it was already booked! Needless to say, this is a popular place.
Let me know if you have any questions or concerns!
Mark Hardin (Illiana Regional Coordinator)
cell # 618-292-7415
Address:
60 Mt Liberty Rd
,
Nashville
,
Indiana
,
47448
,
United States